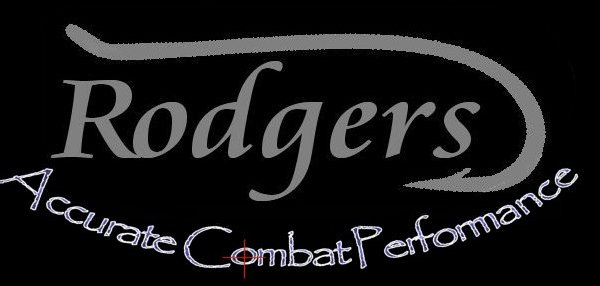 | | |
| --- | --- |
| Rodgers Pistolsmithing, LLC | |
emailbob@rodgerspistolsmithing.com
River Styx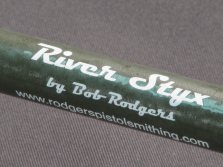 It's amazing at how many improvements in life are directly associated with products already being marketed....with unsatisfactory results. The 1911 pistols I build are a prime example. I was less than happy with what the manufacturers offered, and decided to build my own.

I recently turned my attention to wading staffs. I've been fishing a whole lot longer than I'd care to admit, with a lot of those years spent as a flyfishing guide, and now view an item I once scoffed at as a necessity as I age. Unfortunately, most of the staffs being offered these days are more about convenience of carry and less - much less - about utility. Don't get me wrong, fold-up staffs have their uses, mostly for ease of air travel, but I've never really trusted one. Seen too many fold back up at just the wrong time. So I decided to make my own.

I started with one continuous (no joints to fail) length of 6063 T5 aluminum tubing. For the techno-geeks, this tubing is 5/8" O.D. with a wall thickness of .0625". This is a blending of strength to weight and offers a smaller profile for river currents to work on. I believe the proper length for a staff is approximately center chest high, therefore custom lengths are available. The staff has a clear anodized finish.

Then, I went looking for a good grip. Cork has long been used, and has a certain aesthetic appeal. Its downside, in my view, is that it's easy to chip and doesn't offer as secure a grip as I wanted in wet or cold conditions. I'm using soft molded rubber grips originally designed for ski poles. These grips are great in all conditions and are very comfortable.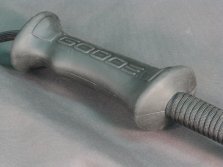 Tip material presented another challenge. Too hard and every fish in casting distance would hear your approach, too soft and wear would be a constant concern. I started with hardened tool steel (MUCH too loud), then tried a carbide tip in an aluminum body (still too loud), then moved to pure aluminum. The aluminum seems to be the perfect compromise, relatively quiet, good wear characteristics, and a little sticky (think about aluminum wading cleats). And it's easily resharpened if needed, with a file or belt sander. I machine the points from solid aluminum rod and pin them into the shaft rather than rely on an adhesive to secure them.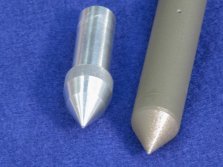 The lower 14"+/- of the shaft can be (your choice) filled with lead shot. This added weight (slightly under a pound) helps anchor the staff to the bottom and aids in placement in strong currents. River Styx also feature a 1/16" "weep" hole just above the interior end of the tip. The purpose is to allow water to partially fill the hollow shaft, vastly decreasing the amount of sound transmitted by a hollow echo chamber.

The staff has to be attached to the wader in some fashion. A lanyard loop is located at the top of the grip for this purpose. Attachment can be as simple as a piece of para-cord cut to length, knotted, and looped into the lanyard, to a luggage type strap secured to the lanyard loop by snaps. These would be slung across the chest. My current favorite method is to use a heavy duty retractor by Gear Keeper (RT4-1072) attached to my wading belt. I snap into the lanyard loop as I enter the water, and tuck the staff behind me as I cast.

River Styx are hand crafted, one at a time, on the banks of the Clearwater River in Orofino, ID.

River Styx are available at Red Shed Fly Shop (208-486-7050) in Peck, Idaho.